20.03.2018 | Symposium: Richard Hoftstadter and The American Political Tradition | Ausgabe 2/2018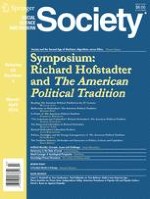 Reading
The American Political Tradition

in the 21st Century
Zeitschrift:
Autor:

William E. Cain
Abstract
Brilliantly written, powerfully argued,
The American Political Tradition
by Richard Hofstadter, published in 1948, is flawed for readers today because of serious gaps and omissions, in particular its lack of reference to African American figures and sources. Late in his career, Hofstadter began to broaden his range of reference, calling attention in vivid prose to the horrors of slavery during the long period of American settlement and colonization. This later emphasis exposes all the more the shortcomings of
The American Tradition
, yet, at the same time, it does not diminish the rhetorical power and insight of this important book. It remains a significant work of American history but, even more, we should read and respond to it now as a major achievement, a distinguished act of writing, in the field of American literature.