2020 | OriginalPaper | Buchkapitel
16. Readings of
Capital

: A Starting Point for Reinventing Socialist Politics?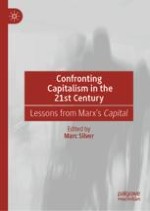 Erstes Kapitel lesen
Autor: Ingo Schmidt
Abstract
This chapter explains the emergence of different readings of
Capital
in the changing historical contexts in which socialist movements were operating. More specifically,
Capital
, and other texts by Marx and Engels, were key to the formation of Marxist socialism in the days of the First and Second International. Unable to explain imperialist expansion and rivalry, this first wave of reading
Capital
was supplemented with a second wave prior to WWI and the Russian Revolution. Bureaucratic rule in the Soviet Union and Western welfare states and a shift of revolutionary processes to the colonial world eventually produced a third wave of reading
Capital
in the 1960s. The chapter concludes with some thoughts on the lessons the three waves of reading Capital might offer to present-day socialists who have to come to terms with the failures and defeats of past socialisms.