01.08.2016 | Ausgabe 1/2017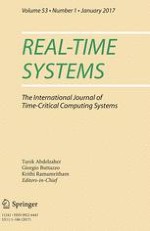 Real-time processing of streaming big data
Zeitschrift:
Autor:

Ali A. Safaei
Abstract
In the era of data explosion, high volume of various data is generated rapidly at each moment of time; and if not processed, the profits of their latent information would be missed. This is the main current challenge of most enterprises and Internet mega-companies (also known as the
big data
problem). Big data is composed of three dimensions:
Volume
,
Variety
, and
Velocity
. The velocity refers to the high speed, both in data arrival rate (e.g., streaming data) and in data processing (i.e., real-time processing). In this paper, the velocity dimension of big data is concerned; so, real-time processing of streaming big data is addressed in detail. For each real-time system, to be fast is inevitable and a necessary condition (although it is not sufficient and some other concerns e.g.,
real-time scheduling
must be issued, too). Fast processing is achieved by parallelism via the proposed
deadline-aware dispatching
method. For the other prerequisite of real-time processing (i.e., real-time scheduling of the tasks), a
hybrid clustering multiprocessor real-time scheduling algorithm
is proposed in which both the partitioning and global real-time scheduling approaches are employed to have better schedulablity and resource utilization, with a tolerable overhead. The other components required for real-time processing of streaming big data are also designed and proposed as real time streaming big data (
RT-SBD
) processing engine. Its prototype is implemented and experimentally evaluated and compared with the
Storm
, a well-known real-time streaming big data processing engine. Experimental results show that the proposed RT-SBD significantly outperforms the Storm engine in terms of proportional deadline miss ratio, tuple latency and system throughput.