01.12.2013 | Symposium: Defects and Properties of Cast Metals | Ausgabe 12/2013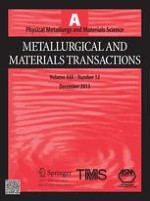 Reasonable Temperature Schedules for Cold or Hot Charging of Continuously Cast Steel Slabs
Zeitschrift:
Autoren:

Yang Li, Xin Chen, Ke Liu, Jing Wang, Jin Wen, Jiaquan Zhang
Wichtige Hinweise
Manuscript submitted August 31, 2012.
Abstract
Some continuously cast steel slabs are sensitive to transverse fracture problems during transportation or handling away from their storage state, while some steel slabs are sensitive to surface transverse cracks during the following rolling process in a certain hot charging temperature range. It is revealed that the investigated steel slabs with high fracture tendency under room cooling condition always contain pearlite transformation delayed elements, which lead to the internal brittle bainitic structure formation, while some microalloyed steels exhibit high surface crack susceptibility to hot charging temperatures due to carbonitride precipitation. According to the calculated internal cooling rates and CCT diagrams, the slabs with high fracture tendency during cold charging should be slowly cooled after cutting to length from hot strand or charged to the reheating furnace directly above their bainite formation temperatures. Based on a thermodynamic calculation for carbonitride precipitation in austenite, the sensitive hot charging temperature range of related steels was revealed for the determination of reasonable temperature schedules.