01.12.2012 | Review | Ausgabe 12/2012 Open Access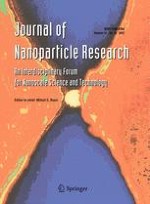 Recent advances in graphene family materials toxicity investigations
Zeitschrift:
Autoren:

Agnieszka Maria Jastrzębska, Patrycja Kurtycz, Andrzej Roman Olszyna
Introduction
The purpose of this review is to compile up-to-date information pertaining to the biological and toxicological activity for GFMs. The aim of the review is to identify, summarize, and present information on the influence of GFM on bacteria, mammalian cells, animals, and plants on the basis of the most recent literature in the field. This article also presents the results of in vitro and in vivo tests and potential mechanisms of toxicity. Moreover, this article studies the effect of functionalization of GFMs on pacifying their strong interactions with cells and related toxic effects. A formal literature search. The article discusses the results of a formal literature review which was conducted using several international databases of scientific papers such as Science Direct, Web of Science, PubMed-NCBI, and Scirus. It has to be noted that in the case of manuscripts as well as tables and figures the use of the original GFMs names has been pertained. Such an approach will facilitate a detailed comparison of GFM properties.
Another aim of this review is to provide appropriate information to the scientific community so that it can be used to conduct an exposure assessment and evaluate the environmental and human health toxicity of GFMs as they are manufactured and will be introduced into the domestic market and, subsequently, the environment.
Toxicity
Anticancer activity
Relatively few in vitro and in vivo studies concerning GFM anticancer activity have been conducted so far. Feng et al. (
2011
) reported that at high concentrations (up to 300 g ml
−1
), polyethyleneimine graphene complexes significantly reduced in vitro toxicity to the treated human epithelial carcinoma (HeLa) cells. Markovic et al. (
2011
) carried out a comprehensive study on the photothermal anticancer activity of near-infrared (NIR)-excited graphene. The results suggest that graphene nanoparticles performed significantly better than carbon nanotubes in inducing photothermal death of human glioma (U251) cells in vitro. The mechanisms of graphene-mediated photothermal killing of cancer cells apparently involved oxidative stress and mitochondrial membrane depolarization resulting in mixed apoptotic and necrotic cell death characterized by caspase activation/DNA fragmentation and cell membrane damage, respectively. Similar results were obtained by Zhang et al. (
2011
). Authors demonstrated that graphene oxide modified with doxorubicin (DOX) and polyethyleneglycol (PEG) during photothermal treatment showed complete in vitro viability reduction in murine mammary tumor (line EMT6) cells as well as in vivo complete destruction of solid tumors (EMT6 tumor-bearing mice were used) without mice weight-loss or recurrence of tumors.
Yang et al. (
2010
) have also studied the in vivo behaviors of PEGylated nanographene sheets in tumor-bearing mice by in vivo fluorescence imaging. Each mouse was intravenously injected with PEGylated nanographene sheets (200 μl of 2 mg ml
−1
solution for each mouse at a dose of 20 mg kg
−1
). Authors demonstrated highly efficient tumor passive targeting of graphene sheets in several different tumor models, such as murine breast cancer tumors, human epidermoid carcinoma tumors, and human glioblastoma tumors, without utilizing any targeting ligands, such as antibodies. Thus, PEGylated nanographene sheets appeared to be an excellent in vivo tumor NIR photothermal therapy agent without exhibiting noticeable toxicity to the treated mice.
Zhang et al. (
2010
) functionalized graphene oxide with sulfonic acid groups, which render it stable in physiological solution, followed by covalent binding of folic acid (FA) molecules to obtain a novel nanocarrier for the loading and targeted delivery of anticancer drugs such as: doxorubicin (DOX) and camptothecin (CPT), onto the FA-conjugated graphene oxide via
p
–
p
stacking. Functionalization with folic acid allowed specific targeting of the human breast cancer cells, exhibiting folic acid receptors. Authors demonstrated that FA–graphene oxide loaded with anticancer drugs showed in vitro specific targeting of cancer cells, and remarkably reduced their viability.
Summary
There have been reported numerous studies focused on GFM biomedical applications. Some of studies regarding the bacterial toxicity of GFM suggest that they may find future application in antimicrobial products. Results suggest that the cell membrane damage of
E. coli
and
S. aure
us bacteria caused by direct contact of the bacteria with the extremely sharp edges of the nanosheets was the effective mechanism in the bacterial inactivation. However, in contrast to these studies, two studies reported lack of GFM toxicity to
E. coli
and
Shewanella
species.
Only a limited number of publications attempted to address the interactions of graphene and its derivatives with living systems. In vitro toxicity investigation suggests that GFM exhibit dose-dependent toxicity to mammalian cells (e.g., human lung fibroblasts, epithelial and alveolar epithelial cells, neuronal cells as well as red blood cells), which strongly suggests that their biocompatibility must be considered when GFMs are applied for biomedical engineering. However, only few studies reported biodistribution and toxicity of graphene oxide following intravenous injection in mice. Graphene oxide under low dose did not exhibit obvious toxicity to mice but under high dose exhibited chronic toxicity, causing significant pathological changes, such as granuloma formation, mainly located in the lungs, kidneys, liver, and spleen.
The number of published study results is also greatly limited. The results of studies indicate that GFMs in the free form (highly dispersed and no-coated) exhibit high in vitro cellular toxicity. Nevertheless, GFM in the form of film exhibited good biocompatibility with investigated cells and promoted their growth and proliferation.
Unfortunately, first alarming reports on validity of different toxicity assessment methodologies were found while compiling this review. Liao et al. (
2011
) discovered that the methylthiazolyldiphenyl-tetrazolium bromide (MTT) assay, a typical nanotoxicity assay failed to predict the toxicity of GFM due to the spontaneous reduction of MTT by GFM, resulting in a false positive signal. Yet, other toxicity assessment, using the water-soluble tetrazolium salt (WST-8) revealed that the investigated GFMs were highly damaging to the investigated cells resulting in acute cytotoxicity. Thus, the usage of MTT assay in predicting the cytotoxicity of GFMs needs to be very careful and other alternate toxicity assays should also be applied according to reliable MTT test results.
Little is also known about toxicity pathways for GFMs. Generation of ROS in target cells is considered to be a potential mechanism for toxicity. The extremely high hydrophobic surface area of graphene may also result in significant biomolecular and cellular interactions with membrane lipids leading to indirect toxicity. GFMs can also produce cytotoxicity in dose- and time-dependent means, decreasing cell adhesion, and inducing cell floating and apoptosis. Results indicate that graphene can induce cytotoxicity through the depletion of the mitochondrial membrane potential and the increase of intracellular ROS, and then trigger apoptosis by activation of the mitochondrial pathway. Sadly, the results in the literature are inconsistent, particularly concerning the ability of GFM to enter the cells. While some studies suggest that graphene oxide can enter the cytoplasm and nucleus of human lung epithelial cells and fibroblasts, other studies indicate that graphene oxide cannot enter human alveolar basal epithelial cells. Moreover, cytotoxicity of graphene oxide was found to occur mostly during the initial contact stage of graphene oxide and cells and was independent of exposure duration. Thus, it is possible to draw the conclusion that physical damage of the cell membrane observation excludes the contribution of an oxidative stress mechanism as that is a time-dependent process.
Several studies attempted to address the interactions of graphene or its derivatives with different molecules. There is evidence which suggests that drugs and targeting molecules can be covalently attached to the graphene surface and edge site, or polymers may be adsorbed onto the GFM surface to enhance solubility and biocompatibility. The observations of different molecules related GFM cytotoxicity effects may lead to the creation of an alternative and convenient route to engineer nanomaterials for safe biomedical and environmental applications. The biocompatibility of the functionalized graphene oxide and reduced graphene was analyzed along with the potential biological effects of the used dispersants in cells. The toxicity depended on the type of dispersant and concentration of GFM in the suspensions. Although, different polymeric substrates were used to functionalize GFM for several in vitro and in vivo studies e.g., FBS, PEG derivatives, sodium DOC and DEX, the development of biocompatible surface coating seems to be critical to engineer various functional nanomaterials for biomedical applications. Surface modification of graphene was reported to alter its toxicity, whereas graphene oxide organic conjugates were reported to reduce cellular toxicity to a remarkably higher degree than their native counterparts.
Only one study, so far, attempted to address the interactions of GFMs with plants. The effects of graphene on root and shoot growth, biomass, shape, cell death, and ROS on cabbage, tomato, red spinach, and lettuce were scrutinized. Results suggest that graphene can significantly inhibit plant growth and biomass in a dose- and time-dependent manner. The potential toxic effect of graphene also largely depends on plant species and, thus, should be given much further attention.
There are relatively few studies concerning GFM anticancer activity. GFMs appeared to be excellent in vitro and in vivo tumor NIR photothermal therapy agents. Significantly reduced viability of in vitro human glioma and human epithelial carcinoma cells was observed without exhibiting noticeable toxicity. Highly efficient tumor passive targeting of GFM has been observed in several different in vivo tumor models without utilizing any targeting ligands, such as antibodies.
What should also be taken into consideration is the fact that GFM synthesis technique determines GFM parameters and their resulting biological activity. In Figs.
2
and
3
the toxicological aspects of GFM in relation to synthesis techniques and resulting properties are presented. It is possible to notice an evident connection between the synthesis technique and bioactivity of GFM (Fig.
2
). As has been mentioned before, the discrepancies in toxicological test results may be a result of different toxicity assays used and different sample preparation methods as well as differences in toxicological properties of graphene toward particular investigated cells/organisms. On the other hand, even if the same GFM preparation technique are taken into consideration, it turns out that GFMs are characterized by different properties (Fig.
3
). In this article TH and lateral dimensions parameters vary the most.
×
×
To summarize, the literature on potential health risks of GFM is being published. As for toxicity, a number of studies have been conducted, yet the field still requires further research as it is a newly emerged one and the literature is still greatly limited. The sources are not sufficient to reach conclusions as to potential hazards connected with risk assessment and regulation. The most likely source of the apparent lack of uniformity are different physicochemical properties of GFMs, such as chemical structure, thickness, lateral size, surface charge, surface area, and surface modifications. Undoubtedly, these properties have significant influence on biological/toxicological activity toward investigated cells and animals. However, mentioned GFM parameters are not always well-controlled and in some cases even analyzed. Moreover, some of these parameters may also be measured by different techniques, which makes the complied results of studies almost impossible to compare. Consequently, the need for further systematic studies which would address the role of GFM parameters as well as their methods of preparation in determining adverse environmental and health impacts is not emphasized. Furthermore, some guidelines should be drawn by the community. Such guidelines would enable choosing the right GFM parameters/properties while conducting the studies. Moreover, the most applicable measurement methodologies should be recommended, and verified during scientific report submission processes.
The authors of this article believe that further work should also focus on in vitro and in vivo studies on possible mechanisms of interactions between GFMs and different living biosystems as well as decreasing GFM toxicity, which is still a great challenge for in vivo biomedical applications. Consequently, the potential impact of graphene and its derivatives (e.g., graphene oxide) on humans and environmental health need to be given the right attention. However, in order to evaluate biocompatibility of GFMs potential hazards and a systematic characterization of cellular response at protein expression level should be analyzed beforehand.
Open Access
This article is distributed under the terms of the Creative Commons Attribution License which permits any use, distribution, and reproduction in any medium, provided the original author(s) and the source are credited.