2017 | OriginalPaper | Buchkapitel
3. Recent Trends in Belgium's International Tax Policy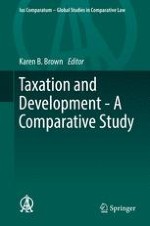 Erstes Kapitel lesen
Autoren: Edoardo Traversa, Gaëtan Zeyen
Abstract
La Belgique est une petite économie ouverte orientée vers les échanges internationaux. Ceci se reflète dans son système fiscal, qui se caractérise par de nombreuses conventions internationales, des règles d'origine européenne et par les dispositions de droit interne spécifiques pour les situations transfrontières. Traditionnellement, la lutte contre l'évasion fiscale internationale et pour la transparence n'étaient pas des objectifs prioritaires de la politique fiscale de la Belgique. Ceci est toutefois en train de changer sous la pression d'organismes internationaux comme l'OCDE et l'Union Européenne et pourrait avoir des répercussions négatives sur les relations avec les pays en voie de développement.
Synopsis
Belgian residents are taxed on a worldwide basis. A credit for taxes imposed by another country on the same income is allowed as a credit against the Belgium tax liability. In some cases, however, certain specified items of foreign source income are excluded from Belgian tax.
For example, in certain cases, a corporation is eligible for a participation exemption which allows it to exclude 95% of a dividend received from another corporation (organized in Belgium, an EU member state, or other states) if it owns at least 10% of the stock of the distributing corporation. The participation exemption is only available if the payor is subject to a corporate income tax (the Belgium corporate tax or an analogous foreign tax) with a base that is not more favorable than the one prescribed under Belgian law. While existence of a nominal tax rate less than 15% leads to a presumption of a "more favorable tax regime," EU member states, even if imposing a tax rate below 15%, are presumed to meet the minimum-level-of-tax requirement. This requirement has the effect of discouraging investment in so-called tax havens. Some exceptions apply, including, for instance, qualification of the Tunisian tax regime even though it provides a ten-year tax holiday on profits from exports. Notably, Belgium's former colony, Burundi, is presumed to have a more favorable tax regime.
Additional anti-tax haven initiatives include a requirement to disclose large payments to persons in no- or low-tax jurisdictions or in jurisdictions not in substantial compliance with the international standard for exchange of information set by the OECD Global Forum and a requirement that individuals disclose ownership in a corporation, partnership, or other non-resident entity not subject to Belgian income tax or subject to a more favorable tax regime or appearing on a special list published by the tax authorities. The list currently includes entities resident in Caribbean countries, among others. A "Cayman tax," effective in 2016, will allow the tax administration to attribute to Belgian residents tax revenue derived by foreign juridical entities (trusts or companies subject to a tax rate below 15%) by associating it with the creator of the enterprise, his heirs, third-party beneficiaries, or shareholders who are Belgian residents.
Internal Belgian law may discourage transaction of business with nonresidents, including those resident in developing countries. One limits deductions to Belgian residents for payments of interest, royalties, and other mobile income, including professional expenses, to resident subject to tax in a regime notably more advantageous than that in Belgium (more favorable regime), with the exception of EU members. The other, an anti-abuse initiative, allows the Belgian tax authority to ignore transactions (sales, loans, intellectual property transfers, capital contributions, etc.) between Belgian taxpayers and those resident in more favorable regimes unless a legitimate business purpose is demonstrated.
Although there is no notion of "harmful tax regime" in Belgium law, there is targeting of certain tax regimes with more favorable or more advantageous tax regimes than in Belgium. As demonstrated above, certain Belgian tax advantages or benefits may be denied for transactions with entities resident in regimes view to be "unfairly competing for Belgian revenue or investment."
Because of its membership in the European Union, Belgium is prohibited from favoring certain investments. The prohibitions on state aid, as well as the EU Code of Conduct, have been interpreted to restrict tax-competitive measures among the member states. As a result, Belgium was forced to abandon the favorable tax regime it had provided for its Centers of Coordination.
Belgium is party to a large number of tax treaties. This in keeping with its goal to strengthen transparency and exchange of information in tax matters. It has also signed on to a number of agreements designed to reinforce administrative cooperation in tax matters. It has entered into Tax Information Exchange Agreements (TIEAs) with a number of countries, including those considered tax havens, such as Andorra, the Bahamas, Belize, Liechtenstein, Saint Kitts and Nevis, and the Grenadines.
Tax incentives for investment in emerging or developing countries have been eliminated. In the past, tax sparing agreements were contained in treaties with Brazil, India, China, Malaysia, Singapore, and others. Internal law also provided for a
Quotité Forfaitaire d'Impôt Etranger
(Q.F.I.E.), or an imputed tax on foreign source income tax, which often had the effect of tax sparing, but this provision has also been repealed.
Belgian's interest in supporting emerging, developing, or transitional countries has been demonstrated in treaty negotiations. It has acceded to requests by these countries (e.g., Brazil and India) to allow them to tax payments to Belgian residents for technical assistance or services at their source even when they are not attributable to a permanent establishment or services performed within the jurisdiction.
Belgium has adopted incentives to attract foreign investment. The participation exemption regime described in 1.1 excludes from taxation 95% of dividends received by a Belgium parent from an eligible foreign subsidiary. There is a special deduction of notional interest on risk capital. In addition, there are incentives for income from patents (a type of patent box) that allows businesses to deduct 80% of royalty income from the tax base and a special tax shelter regime for investments in cinematography and audiovisual industries. There are numerous exceptions from the withholding tax for dividends, royalties, and interest payments for non-resident investors. Finally, there are special incentives for research and development.
The corporate tax rate is 33%, plus an additional 3% consisting of a complementary emergency contribution, which brings the rate to 33.99%. The rates are reduced for small corporations. A deduction for at-risk capital, a deduction for so-called notional interest is available for all corporations whether resident or non-resident.
Belgium is party to multilateral investment agreements that either prevent discrimination in fiscal matters or provide tax immunity (particularly in the case of international organizations or banks). It is also signatory to numerous bilateral investment treaties which do not relate to tax matters.