04.02.2016 | Ausgabe 4/2016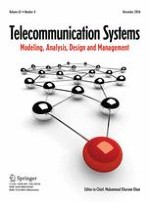 Recharging versus replacing sensor nodes using mobile robots for network maintenance
Zeitschrift:
Autoren:

Leonardo Militano, Milan Erdelj, Antonella Molinaro, Nathalie Mitton, Antonio Iera
Abstract
Wireless sensor networks (WSNs) have been of very high interest for the research community for years, but the quest for deploying a self-sustained network and effectively prolonging its lifetime has not found a satisfactory answer yet. Two main approaches can be identified that target this objective: either "recharging" or "replacing" the sensor nodes that are running out of energy. Of particular interest are solutions where mobile robots are used to execute the above mentioned tasks to automatically and autonomously maintain the WSN, thus reducing human intervention. Recently, the progress in wireless power transfer techniques has boosted research activities in the direction of battery recharging, with high expectations for its application to WSNs. Similarly, also sensor replacement techniques have been widely studied as a means to provide service continuity in the network. The objective of this paper is to investigate the limitations and the advantages of these two research directions. Key decision points must be identified for effectively supporting WSN self-maintenance:
(i)
which sensor nodes have to be recharged/replaced;
(ii)
in which order the mobile robot is serving (i.e., recharging/replacing) the nodes and by following which path;
(iii)
how much energy is delivered to a sensor when recharged. The influence that a set of parameters, relative to both the sensors and the mobile robot, has on the decisions will be considered. Centralized and distributed solutions are compared in terms of effectiveness in prolonging the network lifetime and in allowing network self-sustainability. The performance evaluation in a variety of scenarios and network settings offers the opportunity to draw conclusions and to discuss the boundaries for one technique being preferable to the other.