Erschienen in: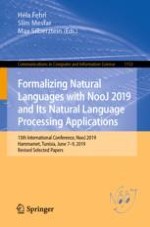 2020 | OriginalPaper | Buchkapitel
Recognition of Arabic Phonological Changes by Local Grammars in NooJ
Abstract
In this paper, we present how to use NooJ in order to recognize all transformations occurring on words following Arabic phonological changes. Our goal is to give the concerned phonological rule, its category, the cause and finally the origin of the word before any transformation. We describe the phonological changes by presenting the three main categories; assimilation, substitution, and weakening. Then, we recall our previous work in this field. We detail all the steps to adopt in order to achieve our goal. We present our classification of word forms, the dictionary, the inflectional grammar, the morphological grammar, and the local grammar. Finally, we present some examples and results.