22.04.2017 | Ausgabe 11-12/2017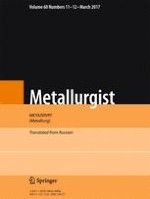 Reconstruction of the Arcelormittal Temirtau Metallurgical Combine Sinter Line of Sintering Machine AKM-312/336. Part 2*
Zeitschrift:
Autoren:

Yu. A. Frolov, K. Nafde, M. F. Vitushchenko
Wichtige Hinweise
Translated from Metallurg, No. 12, pp. 31–38, December, 2016.
* For part 1 see
Metallurgist
, No. 11, 1139–1148 (2016).
Results are given for reconstruction and modernization of sintering machine AKM-312/336 No. 7 of Iron and Steel Works ArcelorMittal Temirtau (previously Karaganda Metallurgical Combine). The sintering machine gas exhaust path is reconstructed: the first stage of the gas cleaning system is dismantled, i.e., the dirty gas collector, 28 TsN-15 cyclones and the scraper conveyor, and the semi-clean gas collector is replaced by an extended sectional collector with 32 dust chambers and two valve gates, under which a rubber conveyor is placed. The unit for loading sinter into the linear cooler is modernized. The planned number of multicyclone battery cyclones is restored (from 780 to 960) and a "zero" vacuum chamber is added beneath the ignition hearth. Stationary throttling devices are installed in the zero and first vacuum chamber connecting pipes. As a result of reconstruction, the sintering area of the sintering machine increased from 336 to
348 m
2
and the charge bed height is higher by 60 mm compared with the rest of the sintering machines, and according to data of May 2016 the specific productivity of the sintering machine is increased by 44.4%, gas consumption is reduced by 70%, and solid fuel for 2016 is reduced by 7.1% compared with the rest of the sintering machines.