2020 | OriginalPaper | Buchkapitel
Recycling Industrial Waste for Production of Bioethanol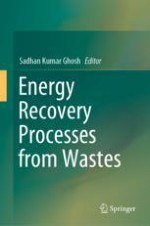 Erstes Kapitel lesen
Autoren: Swagata Das, Shubhalakshmi Sengupta, Papita Das, Siddhartha Datta
Verlag: Springer Singapore
Abstract
In need to overcome the environmental impacts and dearth of fuels, eco-friendly technologies such as biofuels are being developed. Researchers are putting in effort to convert huge amount of lignocellulosic wastes to biofuels such as bioethanol. The main aim for all the second generation biofuels are implying waste management and developing eco-friendly products using the wastes. These wastes are the ways to sustainable waste management. The proper handling of these wastes is too essential, as these cause a threat to the environment. Hence, experimental researches have been focussed on the production of cellulosic bioethanol. Jute caddies were taken up as a potential source for utilizing it for the production of bioethanol. Jute contains a large amount of cellulose, about 60%, which is the major constituent for the conversion to bioethanol. Cellulose is a hard crystalline structure and therefore is subjected to different chemical pretreatments for its degradation and release of fermentable sugars such as glucose, xylose and arabinose as the predominant sugars. Pretreatments such as alkali and alkali plus dilute acid treatment were done followed by enzymatic saccharification using
Aspergillus niger.
Fermentation was the next crucial step for the consumption of these fermentable sugars (simple and complex) by microorganism, for production of bioethanol.
Saccharomyces cerevisiae
(yeast) was used to study the effect on the uptake of these sugars and conversion to bioethanol. The yield was 27% ethanol in this experiment.