01.12.2011 | Original Paper | Ausgabe 3/2011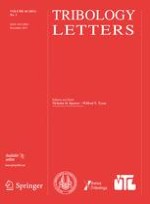 Reducing Friction and Wear of a Zinc Substrate by Combining a Stearic Acid Overcoat with a Nanostructured Zinc Oxide Underlying Film: Perspectives to Super-Hydrophobicity
Zeitschrift:
Autoren:

Yong Wan, Zhongqian Wang, Yifang Liu, Caixia Qi, Junyan Zhang
Abstract
In this study, a simple two-step process was developed to render zinc (Zn) surfaces super-hydrophobic for the purpose of lowering friction and increasing wear resistance. Zn substrates were immersed in an aqueous solution of
N
,
N
-dimethylformamide (4%, volume fraction v/v) to fabricate a ZnO film consisting of uniform and well-packed nanorods. A self-assembled monolayer of stearic acid was then prepared on the ZnO-nanorod film to acquire super-hydrophobicity. Scanning electron microscopy, Fourier transform infrared microscopy, and water contact-angle measurements were employed to analyze the morphological features, the chemical composition, and super-hydrophobicity of freshly prepared samples. Moreover, the friction and wear behavior of the organic–inorganic composite film sliding against steel was evaluated in a ball-on-plate configuration using a UMT-3 friction and wear tester. It was found that the stearic acid overcoat on the nanostructured ZnO film led to a large water contact angle of ~155° as well as to significantly decreased friction and greatly extended wear resistance.