21.07.2018 | Ausgabe 6/2018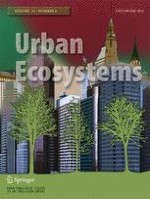 Reducing management intensity and isolation as promising tools to enhance ground-dwelling arthropod diversity in urban grasslands
Zeitschrift:
Autoren:

Sascha Buchholz, Karsten Hannig, Maria Möller, Jens Schirmel
Wichtige Hinweise
Electronic supplementary material
Abstract
Urbanisation is a growing global phenomenon having multiple ecological consequences. However, the effects of urbanisation on biodiversity remain ambiguous, and some evidence exists that cities provide valuable secondary habitats for many species, possibly mitigating regional biodiversity loss. Therefore, the value of urban sites for biodiversity depends on local habitat conditions and the configuration of the surrounding landscape. We aimed to disentangle the effects of local habitat parameters (management, plant diversity) and urban matrix variables (urbanisation, isolation) on carabid beetle and spider diversity and traits in informal urban green spaces in Berlin, Germany. Habitat management and isolation were the most important influences on carabid beetle and spider species and trait compositions. Spider communities of irregular managed sites contained 2.5 times more species of conservation concern than extensive (regular) managed sites. Moreover, irregular managed sites contained larger species (both for carabid beetles and spiders) and affected the hunting mode of spiders. Isolated sites tended to have lower spider species richness and number of spider species of conservation concern. Moreover, isolated sites were characterised by small, mobile and herbivorous carabid beetles. In contrast, urbanisation and local plant diversity had no effect on carabid beetles and spiders. We conclude that urban grasslands within residential areas – even if not targeted for conservation plans – can provide important habitats for conserving biodiversity, including species of conservation concern. Reducing the intensity of habitat management and increasing the connectivity of urban grassland sites can promote diverse arthropod communities and should therefore be considered in urban planning.