2017 | OriginalPaper | Buchkapitel
Reducing Personal Mobility for Climate Change Mitigation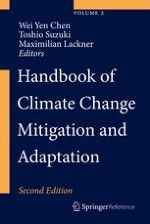 Erstes Kapitel lesen
Autoren: Patrick Moriarty, Damon Honnery
Abstract
In the high-mobility countries of the Organisation for Economic Cooperation and Development (OECD), many governments are seeking to reduce personal mobility, particularly car travel, for a variety of reasons. Reductions can be justified in general by concerns about global climate change, oil depletion and supply security, and traffic casualties. In urban areas, additional concerns are air pollution, traffic congestion, take-up of land by transport infrastructure, and quality of urban life. Similarly, a variety of technological approaches are possible for addressing these problems in the context of global warming mitigation. This chapter examines policies for mobility reduction, as these can have a significant impact on climate change mitigation. It mainly restricts itself to the high-mobility countries of the OECD and uses four such countries (Australia, Japan, the UK , and the US ) as case studies.
The approaches considered here include:
Using modern Information Technology (IT) advances to promote travel substitution

Car pooling, especially in urban areas

Land use planning, particularly increased urban densities

Encouraging the use of more environmentally friendly travel modes

Raising the overall level (and perhaps also changing the structure) of motoring costs

Reducing the convenience of car travel.
It is found that the use of IT, car pooling, and land use planning, whether voluntary or legislated, cannot be expected to produce much reduction in either car passenger-km or vehicle-km. Nor will reliance on voluntary approaches for car travel reduction by encouraging more use of environmentally friendly travel modes. Only the last two approaches can produce large and sustained reductions in travel greenhouse gas emissions, but heavy reliance on market forces such as very large increases in motoring costs is inequitable in OECD countries. The only equitable approach is to reduce the convenience of car travel, for example, by large travel speed reductions and by a reversal of the usual present ranking of travel modes: car, public transport, and active modes.