2017 | OriginalPaper | Buchkapitel
Reduction of Greenhouse Gas Emissions by Catalytic Processes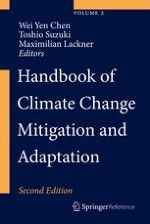 Erstes Kapitel lesen
Autoren: Gabriele Centi, Siglinda Perathoner
Abstract
Catalytic technologies for the abatement of greenhouse gases (GHGs) can effectively limit the increasing tropospheric concentration of GHGs and reduce their contribution to global warming. After introducing the general possible applications of catalytic technologies for GHG abatement, two specific cases are discussed: (1) reduction of anthropogenic emissions of non-CO2 GHGs (N2O and CH4) and (2) reduction or conversion of CO2.
Combustion is one of the main options for controlling methane emissions. The use of catalytic combustion may yield economic benefits, due to the usually low concentration of methane in its emissions, and avoid the formation of by-products in traces like formaldehyde, which may be more harmful than methane itself. The types of catalysts, mechanism of action, and reactor options (regenerative catalytic combustion, reverse flow catalytic combustion, and catalytic combustion using a rotating concentrator) are discussed.
The catalytic control of N
2
O emissions shows different specificities, because different types of emission sources are present. The catalytic abatement or reuse of N
2
O from industrial emissions (particularly adipic and nitric acid production), the treatment of emissions from power plants or waste combustion, the alternatives of catalytic decomposition or reduction, and the role of the other gas components (O
2
, NO
x
, SO
x
) are analyzed.
The problem of the catalytic conversion of fluorocarbons is also briefly discussed.
The case of carbon dioxide is different because, in this case, the issue is the development of cost- and energy-effective catalytic routes for its conversion to usable products. There are many catalytic routes for using CO2 as a building block in organic syntheses to obtain valuable chemicals and materials. Attention has focused recently on the catalytic conversion of carbon dioxide to fuels. In this case as well, different options exist, such as hydrogenation to form oxygenates (e.g., methanol) and/or hydrocarbons, dry reforming with methane, reverse water gas shift, or, in a longer-term perspective, different methods using solar energy directly or indirectly (via bioconversion). Limitations and possible advantages of these different options are analyzed.