29.04.2016 | THERMAL MEASUREMENTS | Ausgabe 1/2016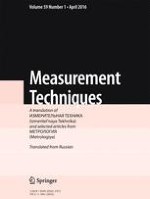 Reduction of Measurement Uncertainty by Taking into Account Correlation in Measurements and Temperature Scale Realization
Zeitschrift:
Autoren:

R. Palencar, S. Duris, Z. Durisova, V. Brokes, P. Pavlasek
Wichtige Hinweise
With this article, we offer our readers a continuation of a selection of articles from presentations at the 5th All-Russian and COOMET participant countries' conference on the problems of thermometry, "Temperature-2015," which was held in April 2015 in St. Petersburg. This selection of articles begins in the December 2015 issue, No. 12, of the journal Izmeritelnaya Tekhnika (Measurement Techniques).
Published in Russian in Izmeritel'naya Tekhnika, No. 1, pp. 37–40, January, 2016.
There are multiple ways to increase the accuracy of temperature measurement by reducing uncertainties of temperature scale realization by means of standard platinum resistance thermometers (SPRT) calibrated at the defining fixed points (DFPs). This paper demonstrates the possibility of reducing uncertainty of temperature scale realization by taking into account correlations between the SPRT resistances at the DFPs in calibration and temperature measurements. The BIPM document Uncertainties in the Realisation of the SPRT Subranges of the ITS-90 issued in 2009 provides an overview of the different approaches. In most cases, SPRT resistances at DFPs were considered as uncorrelated. Only correlations caused by using the same SPRT resistance at the triple point of water (TPW) in calibration and temperature measurement were taken into account. Furthermore SPRT resistances at the DFPs can be correlated with respect to some of the same conditions in the laboratory for SPRT resistances measured at the DFPs. This paper demonstrates that the uncertainty of temperature scale ITS-90 realization is unaffected by errors originating form SPRT calibration and temperature measurements when all the measured resistances are measured with the same error. Furthermore, it is shown that the use of correlation can reduce the uncertainty of temperature scale realization, and dealing with this problem will bring improvement in the field of uncertainty evaluation. Formulas for the calculation of uncertainties of temperature scale realization are presented, together with the correlation between SPRT resistances and simulations that show the impact of correlation on the uncertainty of the temperature scale realization.