01.01.2015 | Ausgabe 1/2015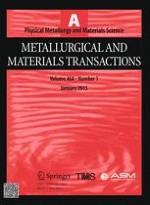 Refinement of Eutectic Si in High Purity Al-5Si Alloys with Combined Ca and P Additions
Zeitschrift:
Autoren:

Thomas Hartmut Ludwig, Jiehua Li, Paul Louis Schaffer, Peter Schumacher, Lars Arnberg
Wichtige Hinweise
Manuscript submitted April 8, 2014.
Abstract
The effects of combined additions of Ca and P on the eutectic Si in a series of high purity Al-5 wt pct Si alloys have been investigated with the entrained droplet technique and complementary sets of conventional castings. Differential scanning calorimetry (DSC) and thermal analysis were used to investigate the eutectic droplet undercooling and the recalescence undercooling, respectively. Optical microscopy, SEM, EPMA, and TEM were employed to characterize the resultant microstructures. It was found that 250 ppm Ca addition to Al-5Si wt pct alloys with higher P contents leads to a significant increase of the eutectic droplet undercooling. For low or moderate cooling rates, the TEM results underline that Ca additions do not promote Si twinning. Thus, a higher twin density cannot be expected in Ca containing Al-Si alloys after,
e.g.
, sand casting. Consequently, a refinement of the eutectic Si from coarse flake-like to fine plate-like structure, rather than a modification of the eutectic Si to a fibrous morphology, was achieved. This strongly indicates that the main purpose of Ca additions is to counteract the coarsening effect of the eutectic Si imposed by higher P concentrations. Significant multiple Si twinning was observed in melt-spun condition; however, this can be attributed to the higher cooling rate. After DSC heating (slow cooling), most of Si twins disappeared. Thus, the well-accepted impurity-induced twinning mechanism may be not valid in the case of Ca addition. The possible refinement mechanisms were discussed in terms of nucleation and growth of eutectic Si. We propose that the pre-eutectic Al
2
Si
2
Ca phase and preferential formation of Ca
3
P
2
deactivate impurity particles, most likely AlP, poisoning the nucleation sites for eutectic Si.