2020 | OriginalPaper | Buchkapitel
ReFIT:
Re

liability Challenges and

F

ailure Rate Mitigation Techniques for

I

o

T

Systems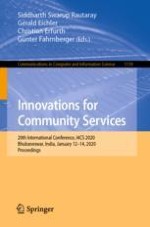 Erstes Kapitel lesen
Autoren: Sukanta Dey, Pradeepkumar Bhale, Sukumar Nandi
Abstract
As the number of Internet-of-Things (IoT) devices increases, ensuring the reliability of the IoT system has become a challenging job. Apart from the emerging security issues, reliable IoT system design depends on many other factors. In this work, for the first time, we have shown all the reliability challenges of an IoT system in details, which may arise due to the random faults. We have also proposed a mathematical formulation of the lifetime of the IoT system. Subsequently, we devise an algorithm which uses Lévy distribution-based duty cycling approach to improve the IoT network lifetime. We have validated our proposed method using Cooja simulation software. The simulation results show 1.5
\(\times \)
increment in network lifetime for the IoT system using our proposed method than the state-of-the-artwork. We have also demonstrated that our proposed method does not degrade the network performance.