Erschienen in: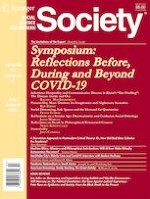 27.07.2020 | Symposium: Reflections Before, During, and Beyond COVID-19
Reflections on Death in Philosophical/Existential Context
Erschienen in: Society | Ausgabe 4/2020
Einloggen
Abstract
Is death larger than life and does it annihilate life altogether? This is the basic question discussed in this essay, within a philosophical/existential context. The central argument is that the concept of death is problematic and, following Levinas, the author holds that death cannot lead to nothingness. This accords with the teaching of all religious traditions, which hold that there is life beyond death, and Plato's and Aristotle's theories about the immortality of the soul. In modernity, since the Enlightenment, God and religion have been placed in the margin or rejected in rational discourse. Consequently, the anthropocentric promethean view of man has been stressed and the reality of the limits placed on humans by death deemphasised or ignored. Yet, death remains at the centre of nature and human life, and its reality and threat become evident in the spread of a single virus. So, death always remains a mystery, relating to life and morality.