Erschienen in: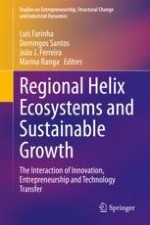 2020 | OriginalPaper | Buchkapitel
Regional Helix Ecosystems and Economic Growth
Abstract
An infinity of regional innovation models has been described in the literature over the last few decades, with emphasis on innovative means, new industrial spaces, industrial clusters, industrial districts, regional clusters, learning regions or more recently, high-tech areas, clusters of knowledge-based industries, regional innovation systems, as well as innovation networks. A complementary approach, the Triple Helix model, suggests that territorial competitiveness largely depends on the trilateral relations between companies, government and universities that emerge in regions inserted at different stages of development. More recently, the term Quadruple Helix introduced the fourth dimension, represented by civil society, including at this level the end user (consumers, local associations, etc.), with an institutional role in the creation and dissemination of knowledge for innovation and development. Massively, the Triple Helix model and the regional innovation systems model have been exploring the territorial dimension of innovation in a concerted way. The Regional Helix concept recognizes the contribution of both schools to improving the understanding of the relationship between territories, innovation and competitiveness. In this approach, universities play a key role in building dense ecosystems of competitiveness in sparse regional environments. The ability to align endogenous resources and capabilities with territories' smart specialization strategies is now a new priority. It is important to ensure new levels of urban sustainability, green growth strategies and consolidated levels of health and well-being. There is an urgent need to clarify the role of clusters in boosting these ecosystems of regional sustainable competitiveness, realizing what direction to follow in terms of regional industrial restructuring.