2018 | OriginalPaper | Buchkapitel
10. Regional Level Socio-economic Failure Pathways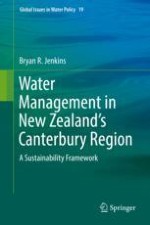 Erstes Kapitel lesen
Autor: Bryan R. Jenkins
Verlag: Springer Netherlands
Abstract
There are several potential socio-economic failure pathways at the regional level. One pathway relates to the contribution to trade networks : does the use of water and investment in infrastructure make an economic contribution ? Economic analyses have been undertaken for the Canterbury Region using benefit-cost analysis with respect to infrastructure investment associated with the Canterbury Water Management Strategy , and at the national level using general equilibrium analysis for increased irrigation using developments from several regions but predominantly Canterbury. Analysis of economic externalities shows costs comparable with economic returns from benefit cost analysis. A significant international example is wheat production in Saudi Arabia with respect to this potential failure pathway . As a trade network failure, it is helpful to consider the concept of "virtual water " as trade does not occur directly in water but does occur in products that depend upon water for their production.
External intrusion is another failure pathway . The agricultural export capacity of New Zealand is attracting international interest in New Zealand farm land and food processing industries. There are competing interests between attracting investment in a capital constrained international economy, and maintaining local ownership of New Zealand assets, particularly productive farm land. As an island state, New Zealand is relatively protected from the foreign intrusion. A more complex international example of this failure pathway is water management in the River Jordan Basin. A summary of eight stages in water management shows the multiple facets of water conflict including boundary definition, transboundary planning, military clashes, diplomatic approaches, addressing resource depletion, peace agreements and joint approval processes.
A third failure pathway is the social effects of changing technology . This includes the social impact assessment of major water infrastructure projects. The Canterbury example of the impact of the Waianiwaniwa storage proposal on the affected land owners and the nearby town of Coalgate led to a rejection of the storage. A larger scale international example is the Three Gorges Project in China where millions of people were displaced. The shift from communal irrigation tanks to individual groundwater bores in the Deccan Plateau in India is used to illustrate the implications of changing water technology on the social structures for its management. The technology change led to a decline in community water management and maintenance institutions.