01.06.2011 | Original Article | Ausgabe 3/2011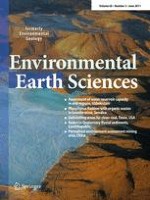 Regional soil erosion risk mapping using RUSLE, GIS, and remote sensing: a case study in Miyun Watershed, North China
Zeitschrift:
Autoren:

Tao Chen, Rui-qing Niu, Ping-xiang Li, Liang-pei Zhang, Bo Du
Abstract
This paper applied the Revised Universal Soil Loss Equation (RUSLE), remote-sensing technique, and geographic information system (GIS) to map the soil erosion risk in Miyun Watershed, North China. The soil erosion parameters were evaluated in different ways: the
R
factor map was developed from the rainfall data, the
K
factor map was obtained from the soil map, the
C
factor map was generated based on a back propagation (BP) neural network method of Landsat ETM+ data with a correlation coefficient (
r
) of 0.929 to the field collected data, and a digital elevation model (DEM) with a spatial resolution of 30 m was derived from topographical map at the scale of 1:50,000 to develop the
LS
factor map.
P
factor map was assumed as 1 for the watershed because only a very small area has conservation practices. By integrating the six factor maps in GIS through pixel-based computing, the spatial distribution of soil loss in the upper watershed of Miyun reservoir was obtained by the RUSLE model. The results showed that the annual average soil loss for the upper watershed of Miyun reservoir was 9.86 t ha
−1
ya
−1
in 2005, and the area of 47.5 km
2
(0.3%) experiences extremely severe erosion risk, which needs suitable conservation measures to be adopted on a priority basis. The spatial distribution of erosion risk classes was 66.88% very low, 21.90% low, 6.19% moderate, 2.90% severe, and 1.84% very severe. Among all counties and cities in the study area, Huairou County is in the extremely severe level of soil erosion risk, about 39.6% of land suffer from soil erosion, while Guyuan County in the very low level of soil erosion risk suffered from 17.79% of soil erosion in 2005. Therefore, the areas which are in the extremely severe level of soil erosion risk need immediate attention from soil conservation point of view.