01.01.2014 | Methodologies and Application | Ausgabe 1/2014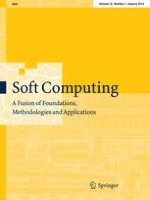 Regression analysis of belief functions on interval-valued variables: comparative studies
Zeitschrift:
Autoren:

Zhi-gang Su, Pei-hong Wang
Wichtige Hinweise
Communicated by T. P. Hong.
This work is supported by the National Natural Science Foundation of China (No. 51106025).
Abstract
In real engineering, the observations of process variables are usually imprecise, uncertain, or both. In such cases, the general process modeling approaches cannot be implemented. In this paper, we investigate on the parametric and nonparametric evidential regression of imprecise and uncertain data, represented as belief function on interval-valued variables. The parametric evidential regression includes both
multiple linear and nonlinear evidential regression models
. The nonlinear evidential regression model is derived by introducing kernel function into the multiple linear evidential regression model. The parametric evidential regression models are identified by using evidential EM algorithm, an evidential extension of the EM algorithm. In the nonparametric evidential regression, the prediction for a given input vector is computed using a nonparametric, instance-based approach: the training samples in the neighborhood of the given input vector provide pieces of evidence reflecting the values taken by such input vector, these pieces of evidence are combined to form the prediction. Some unreliable sensor experiments are designed to validate the performances of the proposed parametric and nonparametric evidential regression models. With comparative studies, we get some interesting results.