2016 | OriginalPaper | Buchkapitel
5. Regression Models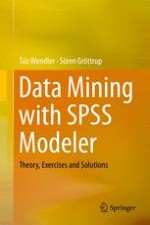 Erstes Kapitel lesen
Autoren: Tilo Wendler, Sören Gröttrup
Abstract
Regression models are one of the most important and popular models in data mining, and widely used in many different areas, e.g., medicine, finance, physics, and web analytics. This chapter is dedicated to the introduction of the different types of regression models, and how they can be built with the IBM SPSS Modeler, evaluated, interpreted, and applied on real data. Types of regression models discussed here include simple and multiple linear regression, as well as Generalized linear (mixed) models.
So after finishing this chapter, the reader …
1.
Knows the differences of the various regression model types and is able to pick a proper model type for his/her current problem
2.
Is able to build a regression model with the SPSS Modeler for different problems, and is able to apply it to new data for prediction
3.
Can evaluate the quality of the trained regression model and interpret its outcome