2016 | OriginalPaper | Buchkapitel
8. Regularized Image Interpolation Based on Data Fusion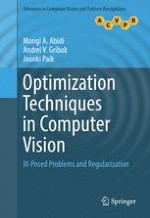 Erstes Kapitel lesen
Autoren: Mongi A. Abidi, Andrei V. Gribok, Joonki Paik
Abstract
This chapter presents an adaptive regularized image interpolation algorithm, which is developed in a general framework of data fusion, to enlarge noisy-blurred, low-resolution (LR) image sequences. Initially, the assumption is made that each LR image frame is obtained by subsampling the corresponding original high-resolution (HR) image frame. Then the mathematical model of the subsampling process is obtained. Given a sequence of LR image frames and the mathematical model of subsampling, the general regularized image interpolation estimates HR image frames by minimizing the residual between the given LR image frame and the subsampled estimated solution with appropriate smoothness constraints.
The proposed algorithm adopts spatial adaptivity which can preserve the high-frequency components along the edge orientation in a restored HR image frame. This multiframe image interpolation algorithm is composed of two levels of data fusion. At the first level, an LR image is obtained and used as an input of the adaptive regularized image interpolation. At the second level, the spatially adaptive, fusion-based regularized interpolation is implemented by using steerable orientation analysis.
In order to apply the regularization approach to the interpolation procedure, an observation model of the LR video formation system is first presented. Based on the observation model, an interpolated image can be obtained, where the residual between the original HR and the interpolated images is minimized under a priori constraints. In addition, directional high-frequency components are preserved in the noise-smoothing process by combining spatially adaptive constraints. By experimentation, interpolated images using the conventional algorithms are compared with the proposed adaptive fusion-based algorithm. Experimental results show that the proposed algorithm has the advantage of preserving directional high-frequency components and suppressing undesirable artifacts such as noise.