28.08.2019 | Research Article | Ausgabe 4/2019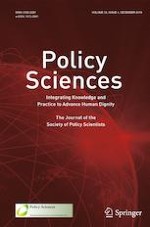 Regulation and regime: the comparative politics of adaptive regulation in synthetic biology
Zeitschrift:
Autoren:

Scott L. Greer, Benjamin Trump
Wichtige Hinweise
Publisher's Note
Springer Nature remains neutral with regard to jurisdictional claims in published maps and institutional affiliations.
Abstract
Regulation of rapidly developing changing policy areas is a well-known challenge for any government. It can involve balancing factors from elite factional politics to development strategies, national security, and public health. In the regulation of science and technology, regulation is made harder by limited data for risk assessment and policymaking, and the uncertain implications and safe use guidance for emerging and enabling technologies. Adaptive regulation has been widely proposed as a solution in which governments iteratively update and adjust technology policy as new data become available. We argue that such a strategy, however, desirable, cannot be deployed in any standardized or uniform fashion within all countries. Rather, it depends on the regime. In this paper, we contend that the political regime within a given country has a direct impact upon its ability to adopt an adaptive governing strategy and review how two key variables within such regimes—polyarchy and number of power-wielding principals—have influenced adaptive governing strategies within four countries for the case of synthetic biology. Our four illustrative cases of countries that invested seriously in synthetic biology but have very different regimes are Australia, the USA, Singapore, and Saudi Arabia. Broadly, adaptive regulation will be most likely and successful in polyarchies with few principals, while multi-principal polyarchies will be more inclined to rigidity, with possible islands of adaptive regulation in clearly delimited agencies. While single-principal non-polyarchies can be successful in developing credible adaptive regulation, such regimes are rare and tend not to last.