2019 | OriginalPaper | Buchkapitel
Rejuvenated Binders, Reclaimed Binders and Paving Bitumens, Are They Any Different?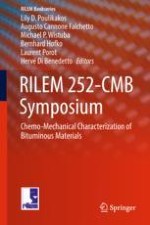 Erstes Kapitel lesen
Autoren: Tomas Koudelka, Pavel Coufalik, Michal Varaus, Iva Coufalikova
Abstract
Asphalt binder hardens over time; therefore, its chemical and rheological properties are altered considerably in the course of the time. The change of properties starts during the production process and continues throughout pavement's lifetime. Further, the process of rejuvenation is supposed to restore lost properties of aged binders. Additionally, a hypothesis that rejuvenated binders behave similarly to paving bitumens have been suggested by researchers and rejuvenator producers many times. However, there is still a limited number of studies comparing behaviour of paving bitumens, rejuvenated and reclaimed binders altogether. This study investigates the influence of long term laboratory ageing on empirical properties of paving bitumens and rejuvenated binders. In total, behaviour of 10 paving bitumens available on the Middle European market was compared with the behaviour of the laboratory aged paving bitumen combined with 10 different rejuvenators. Binders were aged by RTFOT (Rolling Thin Film Oven Test) and further by up to two cycles of PAV (Pressurized Ageing Vessel). The properties of the aged binders were thereupon compared with 10 characteristics of reclaimed binders. The results indicate that RTFOT+PAV procedure ages the binder less in comparison to what is observed in the field in some cases. Aged rejuvenated binders exhibit higher penetrations and penetration indexes compared to aged paving bitumens and to reclaimed binders. Additionally, it was found out that the properties of rejuvenated binders upon ageing are similar to air rectified bitumens rather than to reclaimed binders. Aging of rejuvenated binders thus follows a different mechanisms compared to paving bitumens.