2016 | OriginalPaper | Buchkapitel
4. Related Studies of Corporate Diversification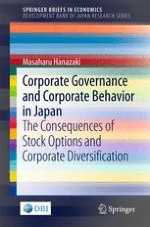 Erstes Kapitel lesen
Autor: Masaharu Hanazaki
Verlag: Springer Japan
Abstract
Chandler,
The visible hand: the managerial revolution in American business
. Belknap Press of Harvard University Press, Cambridge (1977) and
Scale and scope: the dynamics of industrial capitalism
. Belknap Press of Harvard University Press, Cambridge (1990) pointed out that an economy of scope and corporate diversification could bring about higher profitability and/or higher productivity. However, many empirical analyses of US corporations have found that corporate diversification has reduced firm value, in so-called "diversification discounts" or "conglomerate discounts." For example, Wernerfelt and Montgomery, Am Econ Rev, 78(1):246–250, (1988), a pioneering study on diversification discounts, show that corporate performance is inferior in corporations that have diversified broadly compared with corporations that have not. It is often pointed out that inefficient corporate diversification is the result of weak corporate governance. For example, top corporate managers tend to be fonder of large-scale and wide-ranging businesses than of single and small-scale businesses. This propensity is called "empire building." As the scale and scope of a business expand, top managers tend to dabble in investment projects in which the discounted net present values are negative; this is what is called the "problem of overinvestment." Furthermore, in project selection, top managers have a strong tendency to choose projects that coincide exactly with their own specific skills and experiences instead of projects that are suitable and manageable for other managers; this is the so-called "problem of entrenching investment." To solve these negative aspects of corporate diversification resulting from weak corporate governance, mechanisms for monitoring and controlling top managers' behavior effectively are required.