28.03.2019 | Ausgabe 4/2019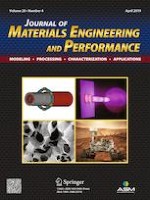 Relationship Between
γ

′ Phase Degradation and In-Service GTD-111 First-Stage Blade Local Temperature
Zeitschrift:
Autoren:

J. A. Villada, R. G. Bayro-Lazcano, E. Martinez-Franco, D. G. Espinosa-Arbelaez, J. Gonzalez-Hernandez, J. M. Alvarado-Orozco
Wichtige Hinweise
This article is an invited submission to JMEP selected from presentations at the 29th Advanced Aerospace Materials and Processes (AeroMat) Conference and Exposition held May 7-10, 2018, in Orlando, Florida, and has been expanded from the original presentation.
Publisher's Note
Springer Nature remains neutral with regard to jurisdictional claims in published maps and institutional affiliations.
Abstract
The Ni-based superalloy GTD-111 is used in manufacturing of first-stage blades for industrial gas turbines due to its high stability and strength at high temperatures. The remarkable properties of this alloy are related to its suitable microstructure obtained by the precipitation hardening mechanism. The microstructure of superalloys nevertheless degrades when they are exposed to long-term service. In this paper, the microstructure of a service-exposed GTD-111 blade was evaluated at different positions along the airfoil. Pores, carbides, eta and
γ
′ phases were analyzed. As a result of this study, it was found that only the
γ
′ phase exhibited significant differences in size and shape. The coalescence and coarsening of the
γ
′ phase near to the trailing edge tip were evident, which may be related to the typical failure of the blade in this region. Based on the Ostwald ripening theory, coarsening of this phase was used to calculate the in-service temperatures in the airfoil. In five locations of the trailing edge, temperature was found to vary from 679 to 961 °C.