29.12.2016 | Original Paper | Ausgabe 9/2017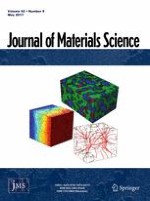 Relationship between nano-architectured Ti1−

x

Cu

x

thin film and electrical resistivity for resistance temperature detectors
Zeitschrift:
Autoren:

A. Ferreira, J. Borges, C. Lopes, M. S. Rodrigues, S. Lanceros-Mendez, F. Vaz
Abstract
Ti
1−

x
Cu
x
thin films were produced by the glancing angle deposition technique (GLAD) for resistance temperature measurements. The deposition angle was fixed at
α
= 0° to growth columnar structures and
α
= 45° to growth zigzag structures. The Ti-to-Cu atomic concentration was tuned from 0 to 100 at.% of Cu in order to optimize the temperature coefficient of resistance (TCR) value. Increasing the amount of Cu in the Ti
1−

x
Cu
x
thin films, the electrical conductivity was gradually changed from 4.35 to 7.87 × 10
5
Ω
−1
m
−1
. After thermal "stabilization," the zigzag structures of Ti
1−

x
Cu
x
films induce strong variation of the thermosensitive response of the materials and exhibited a reversible resistivity versus temperature between 35 and 200 °C. The results reveal that the microstructure has an evident influence on the overall response of the films, leading to values of TCR of 8.73 × 10
−3
°C
−1
for pure copper films and of 4.38 × 10
−3
°C
−1
for a films of composition Ti
0.49
Cu
0.51
. These values are very close to the ones reported for the bulk platinum (3.93 × 10
−3
°C
−1
), which is known to be one of the best material available for these kind of temperature-related applications. The non-existence of hysteresis in the electrical response of consecutive heating and cooling steps indicates the viability of these nanostructured zigzag materials to be used as thermosensitive sensors.