01.02.2011 | Original | Ausgabe 1/2011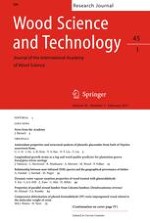 Relationship between near-infrared (NIR) spectra and the geographical provenance of timber
Zeitschrift:
Autoren:

Anna Sandak, Jakub Sandak, Martino Negri
Abstract
Since trees record all the environmental factors in the wood, many wood properties are related to the site characteristics. Despite of this fact, identifying the origin of a timber has always been considered a difficult task, and no effective tools are presently available for this purpose. The goal of this study was to verify whether significant differences among groups of the same wood species due to the provenance can be detected with Fourier transform near-infra-red spectroscopy (FT-NIR). Spruce (
Picea abies
L. Karst.) samples collected from stands in Finland, Northern and Southern Poland and Italy were analyzed using two different approaches: for the first approach samples were collected from four provenances scattered in a wide area throughout Europe, while for the second approach the samples were collected from provenances located in a narrow area within the same region in Italy. For the first approach, all the specimens were clearly divided into groups by using statistical methods. The separation among groups from the narrow local area was actual; even though less significant than in the previous case. It was concluded that trees growing in various locations have somewhat different chemical composition, and FT-NIR is sensitive enough to detect such differences. The presented method could be used for tracking wood provenances and as a technical tool for detecting logs harvested illegally from protected areas.