2013 | OriginalPaper | Buchkapitel
Relaxation Mechanisms of Physical Hydrogels Networks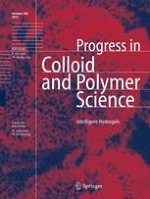 Erstes Kapitel lesen
Autoren: Jan Zidek, Andrey Milchev, Josef Jancar, Thomas A. Vilgis
Abstract
We study the dynamic mechanical behavior of a model hydrogel subject to deformation by means of Molecular Dynamics simulation. The model has a predefined invariable chemical composition and secondary structure of entangled network, but its macroscopic response to tensile deformation varies depending on external conditions. Our model has temperature-,
pH
, swelling degree-, and deformation rate-responsive behavior. The model is found to respond to changes in external conditions qualitatively in the same way as real hydrogels, which serve as reference in our study. The model is focused on physical hydrogels, where the self-assembly of interacting acrylic acid (
AA
)-groups plays essential role in the formation of the network. In particular, as a modeled material we have chosen the
poly-(lactide-glycolide)-acrylic acid PLGA − AA
hydrogel, where
AA
-groups are believed to play the role of quasi-mobile nodes in the formation of a network. One output of the model is the change of energy density during tensile deformation which is then used to calculate the stress–strain relationship.
Structural changes were investigated both during stretching and relaxation of the system. Three different structural factors pertaining to
AA
-groups were monitored regarding possible changes during deformation and also when the deformation was stopped: detachment from clusters, hops between clusters, and reorientation of
AA
-clusters. Our results suggest that the proposed model provides a qualitatively faithful description of tensile deformation in physical hydrogels.