2019 | OriginalPaper | Buchkapitel
1. Relaxing Stiff System Integration by Smoothing Techniques for Non-iterative Co-simulation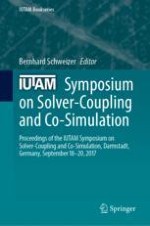 Autoren: Martin Benedikt, Edo Drenth
Abstract
Non-iterative or weak-coupling is the most applicable scheme for the co-simulation of interacting subsystems, where subsystems are solved independently with data exchange at restricted time instants. This contribution analyzes the continuous co-simulation from a different, a system-oriented, point of view and three coupling challenges are identified: co-simulation discretization error, sampling and discontinuities introduced. Introduction of smoothing filters can be interpreted as an additional co-simulation discretization error and affects the entire system behavior in general. However, energy-preservation-based considerations has proven to improve co-simulation performance, enabling filter applications according to the communication step-size, where mitigated frequency parts are added by the recently proposed correction schemes. This way,
numerical stiffness
is relaxed by an energy preserving mapping of high frequencies into low frequency ranges, based on
Parseval's
identity. The proposed approaches are demonstrated along a theoretical as well as an industrial co-simulation example.