17.05.2016 | Ausgabe 2/2017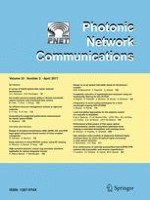 Relay selection in mixed RF/FSO system using DF relaying
Zeitschrift:
Autoren:

Nikhil Sharma, Ankur Bansal, Parul Garg
Abstract
In this paper, we carry out the performance analysis of relay selection in decode-and-forward (DF)-based mixed radio frequency/free-space optical (RF/FSO) system. We consider two relay selection schemes, namely max-select and distributed switch and stay, and compare their performance with the system having all relays active. The selected DF relay decodes the received RF signal from source and converts it into an optical signal using the subcarrier intensity modulation scheme for transmission over FSO links. The RF links follow generalized
\(\eta -\mu \)
distribution, while the FSO links are subjected to pointing errors and are assumed to follow gamma–gamma distribution. Novel analytical expressions for cumulative density function and the moment generating function of the equivalent end-to-end signal-to-noise ratio are derived. Capitalizing on the derived statistics, we provide the new closed-form expressions of the outage probability for different relay selection schemes.