01.04.2021 | Ausgabe 2/2021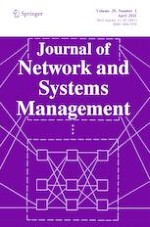 Reliability and Survivability Analysis of Long-Term Evolution Vehicular Ad-Hoc Networks: An Analytical Approach
Zeitschrift:
Autoren:

Shivani Gupta, Vandana Khaitan
Wichtige Hinweise
Publisher's Note
Springer Nature remains neutral with regard to jurisdictional claims in published maps and institutional affiliations.
Abstract
In this paper we provide an abstract view of the long-term evolution vehicular ad-hoc network (LTE-V) and propose analytical models to obtain its reliability and survivability metrics. Various stochastic modeling techniques (such as semi-Markov process, reliability block diagrams, and Markov chains) are used to develop these models. Reliability of the LTE-V network is obtained through reliability block diagrams. In addition to reliability, the availability of channels should also be taken into consideration for a better performance of the network. To serve this purpose, measures such as blocking and dropping probabilities of service requests in various states of the reliability model are also obtained. A two-level hierarchical model is developed to obtain these measures in which the upper level is a reliability model that behaves as a Markov reward model and the lower level is a performance model for the availability of channels. Apart from a reliable network, a fault tolerant network is also required to satisfy the high expectations of the users. Therefore, various survivability measures for the LTE-V network are also evaluated which depict the impact of hardware failure and unavailability of channels on the performance measures. Further, the average number of service requests lost due to hardware failures is also obtained as a performance measure. To demonstrate the viability of our approach, numerical illustrations of the proposed models are presented. The numerical results are also validated via simulation.