28.05.2018 | Ausgabe 8/2019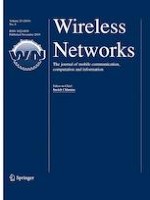 Reliable transmission of stream transported media in wireless real time communications
Zeitschrift:
Autor:

Rolando Herrero
Abstract
The
Real Time Protocol
(RTP) provides a well established mechanism for media transmission that typically relies on the packetization on top of the
User Datagram Protocol
. One serious problem of datagram based traffic, however, is that highly restrictive firewalls prevent their traversal making
Real Time Communication
not possible. The alternative of transporting RTP on top of the
Transport Control Protocol
, while reliable, it is not effective as ever-present network packet loss introduces latency that degrades media quality and negatively affects user experience. In this paper, a scheme that relies on multiplexing media frames over multiple streams is proposed. This mechanism is analyzed through a novel analytical model that links application and network packet loss in the context of wireless multiple stream transport. The model is later validated by means of an experimental framework that relying on state of the art speech codecs and quality metrics quantifies its advantages.