01.06.2011 | Regular Paper | Ausgabe 3/2011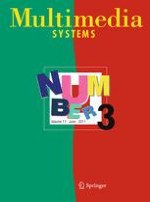 Relieving the burden of track switch in modern hard disk drives
Zeitschrift:
Autoren:

Jongmin Gim, Youjip Won
Wichtige Hinweise
Communicated by P. Shenoy.
Primitive version of this work has appeared in Proceedings of ICCSA '07 (IEEE Computational Sciences and its Applications), Peruja, Italy [
11
].
Abstract
In this work, we propose a novel hard disk technique, "AV Disk", for modern multimedia applications. Modern hard disk drives adopt complex sector layout mechanisms to reduce track and head switch overhead. While these complex sector layout mechanism can reduce average overhead involved in the track and head switch, they bring larger variability in the overhead. From a multimedia application's point of view, it is important to minimize the worst case I/O latency rather than to improve the average IO latency. We focus our effort to minimize track switch overhead as well as the variability in track switch overhead involved in disk I/O. We propose that track of the hard disk drive is aligned with a certain IO size. In this work, we develop an elaborate performance model with which we can compute the optimal IO unit size for multimedia applications. We propose that hard disk controller is responsible for positioning data blocks in the hard disk platter in such a manner that I/O units are not placed across the track boundaries, where a single I/O unit has size of 32–128 KByte. Optimal IO unit size is used in aligning the tracks in hard disk drives. We develop Skewed Sector Sparing technique in aligning a track with a given IO size. However, when the I/O unit for alignment is increased to 128 KByte, 17% of the disk space becomes unusable. Despite the decreased storage area, track aligning technique increases the overall performance of the hard disk. According to our simulation-based experiment, overall disk performance increases about 5–25%. Given that capacity of hard disk increases 100% every year, we cautiously regard it as reasonable tradeoff to increase the I/O latency of the disk.