01.04.2015 | Ausgabe 4/2015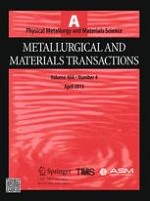 Remarkable Improvement of Shape-Memory Effect in a Co-31Ni-3Si Alloy by Ausforming
Zeitschrift:
Autoren:

Jiangwei Sun, Shanling Wang, Zhiwei Yan, Huabei Peng, Yuhua Wen
Wichtige Hinweise
Manuscript submitted October 8, 2014.
Abstract
In order to improve the shape-memory effect (SME) in Co-Ni alloys, the influence of ausforming temperature on the SME, microstructures, and mechanical behavior in a Co-31Ni-3Si alloy was studied. The results show that the ausforming at 1073 K (800 °C) could remarkably improve the SME in Co-31Ni-3Si alloy. A large recovery strain of 2.3 pct was obtained after bent by 3.7 pct at 77 K (−196 °C). The increase of yield strength and the decrease of the critical stress for the stress-induced gamma to epsilon martensitc transformation are responsible for the remarkable improvement of SME. The results indirectly showed that the SME in Co-Ni alloys results from the stress-induced gamma to epsilon martensitic transformation, and their low yield strength account for their poor SME. It can be expected that the strengthening of matrix by other methods, such as solution, dispersion, and grain refinement hardening, will improve the SME of Co-Ni alloys.