Tipp
Weitere Kapitel dieses Buchs durch Wischen aufrufen
2019 | OriginalPaper | Buchkapitel
Remediation in Karst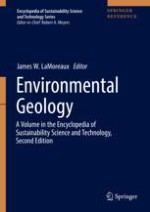 Erstes Kapitel lesen
Autor: Petar T. Milanović
Verlag: Springer US
Without Abstract
Bitte loggen Sie sich ein, um Zugang zu diesem Inhalt zu erhalten
Sie möchten Zugang zu diesem Inhalt erhalten? Dann informieren Sie sich jetzt über unsere Produkte:
1.
Altug S, Saticiogly Z (2001) Berke arch dam, Turkey: Hydrogeology, karstification and treatment of limestone foundation. In: Proceedings of the 6th international symposium and field seminar, Marmaris, Turkey, IHP-V Technical documents in Hydrology, No. 49. Vol. I UNESCO, Paris, p 315
2.
Beck BF (1991) On calculating the risk of sinkhole collapse. In: Kastning EH, Kastning KM (eds) Appalacian karst. Proceedings of the Appalachian Karst Symposium. National Speleiological Society, Radford, pp 231–236
3.
Brink ABA (1984) A brief review of the South African sinkhole problem. In: Beck F (ed) Sinkholes: their geology, engineering and environmental impact. A.A. Balkema, Rotterdam/Boston, pp 123–127
4.
Bruce DA (2003) Sealing of massive water inflows though karst by grouting: principles and practice. In: Back BF (ed) Sinkholes and the engineering and environmental impacts of Karst. Geotechnical Special Publication No. 122. American Society of Civil Engineers, Reston
5.
Djalaly H (1988) Remedial and watertightening works of Lar Dam, Iran. Paper presented at Seizieme Congres das Grandes Barages, San Francisco
6.
Dublansky GN, Shilova EV, Kadebski YV (2004) Imperilment of the Kungur town by subsidence. In: Russian. Karstology – XXI century: theoretical and practical significance. Proceedings of the international symposium, Perm
7.
Ford D, Williams P (2007) Karst hydrogeology and geomorphology. Wiley, Boston
CrossRef
8.
Gutierrez F, Guerrero J, Lucha P (2008) Quantitative sinkhole hazard assessment. A case study from the Erbo Valley evaporate alluvial karst (NE Spain). Nat Hazards 45:221–233
CrossRef
9.
Günay G, Milanović P (2005) Karst engineering studies at the Akkopru Reservoir area, SW of Turkey. In: Stevanović Z, Milanović PT (eds) Water resources and environmental problems in Karst. Proceedings of the international conference, Belgrade/Kotor, Sept 2005, pp 651–658
10.
Han X (2010) Prediction and engineering treatment of water gushing and caves for tunnelling in Karst, BBT Press, Guangxi
11.
Hua SL (1984) Pumping subsidence of surface in some karst areas of China. In: Symposium on human influence on Karst, Postojna
12.
Johnson KS (1997) Evaporate Karst in the United States. Carbonates Evaporates 12(1)
CrossRef
13.
Kiernian K (1988) Human impact and management responses in the karsts of Tasmania. In: Proceedings of the international geographical union, Study Group Man's Impact on Karst, Sydney
14.
Klimchouck A, Andrejchuk V (2005) Collapse and breakdown mechanisms from observations in the gypsum caves of Western Ukraine: implications for subsidence hazard zonation. Environ Geol 48:370–383
CrossRef
15.
LaMoreaux PE, Newton JG (1986) Catastrophic subsidences: an environmental hazard, Shelby County, Alabama. Environ Geol Water Sci 8(1/2)
CrossRef
16.
Marinos PG (2005) Experiences in Tunnelling through Karstic rocks. In Stevanović Z, Milanović PT (eds) Water resources and environmental problems in Karst. Proceedings of the international conference, Belgrade/Kotor, Sept 2005, pp 651 – 658
17.
Maximovich NG (2006) Safety of dams on soluble rock (The Kama hydroelectric power station as an example). The Russian Federal Agency for Science and Innovations, Perm
18.
Milanović P (1997) Tunneling in Karst: common engineering-geology problems. In: Marinos PG, Koukis GC, Tsiambaos GC & Stournaras GC (eds) Engineering geology and the environment. Balkema, Roterdam
19.
Milanović P (2000) Geological engineering in karst – dams, reservoirs, grouting, groundwater protection, water tapping, tunneling. Zebra Publishing, Belgrade
20.
Milanović P (2002) Subsidence hazards as a consequence of dam, reservoir and tunnel construction. Int J Speleol 31(1/4):169–180
CrossRef
21.
Milanović P (2002) The environmental impacts of human activities and engineering constructions in karst regions. Epizodes 25(1):13–21
22.
Milanović P (2011) Groundwater, impacts of infrastructure construction. In: Proceedings of the 9th conference on limestone hydrogeology, Besancon
23.
Milanović S (2015) Prevent leakage and mixture of Karst groundwater. In: Stevanović, Z (ed) Karst aquifers – characterisation and engineering. Springer Heidelberg
24.
Sowers GF (1984) Correction and protection in limestone terrane. In: Back B (ed) Sinkhole: their geology, engineering & environmental impact. Balkema, Rotterdam, pp 373–378
25.
Stevanović Z, Milanović P (2015) Engineering challenges in Karst. In: Gabrovšek F, Ravbar N (ed) Acta Carsologica. 44/3, Academia Sciantiarum et artum Slovenica, Ljubljana
26.
Tolmachev V, Leonenko M (2011) Experience in collapse risk assessment of building on covered Karst landscapes in Russia. In: Van Beynen PE (ed) Karst management. Springer, Dordrecht
CrossRef
27.
Vlahović V (1981) Karst Reservoir Slano. The Montenegrian Academy of Sciences and Arts, Special Edition, Podgorica
28.
Waltham AC (1996) Ground subsidence over underground cavities. J Geol Soc China 39(4):605–626
29.
White EL, White WB (1969) Processes of cavern breakdown. Natl Spelol Soc Bull 31:83–96
30.
Yuan D (1991) Karst of China. Geological Publishing House, Beijing
Andreo B, Carrasco F, Duran JJ, LaMoreaux JW (2010) Advances in research in Karst media. Springer, Berlin
CrossRef
Back BF (ed) (2003) Sinkholes and the engineering and environmental impacts of Karst. Edited by Geotechnical Special Publication No. 122. American Society of Civil Engineers
Bonacci O (1987) Karst Hydrology, With Special References to the Dinaric Karst. Springer, Berlin/Heidelberg
CrossRef
Engineering geological problems of construction on soluble rocks (1981) International engineering geological symposium, Istanbul
Ford D, Williams P (2007) Karst hydrogeology and geomorphology. Wiley, Chichester
CrossRef
Gabrovšek F, Ravbar N (eds) (2015) Acta Karsologica 44-3. Academia Scientorum et Artum Slovenica, Ljubljana
Gutierrez F, Desir G, Gutierrez M (2003) Causes of the catastrophic failure of an earth dam built on gypsiferous alluvium and dispersive clays (Altorricon, Huesca Province, NE Spain). Environ Geol 43:842–851
CrossRef
Gutierrez F, Orti F, Gutierrez M, Perez-Gonzalez A, Benito G, Prieto JG, Valsero JJD (2001) The stratigraphical record and activity of evaporate dissolution subsidence in Spain. In: Gutierrez F, Orti F, Gutierrez M, Perez-Gonzales A, Benito G, Prieto JG, Valasero JJD (eds) Carbonates and Evaporites 16(1). Springer, Heidelberg, pp 46–70
Guzina B, Sarić M, Petrović N (1991) Seepage and dissolution at foundations of a dam during the first impounding of the reservoir. In: Congres des Grandes Barrages, Q66 Vienne
Günay G, Johnson IA, Back W (eds) (1990) Hydrogeological processes in Karst Terranes. IAHS Press, Wallingford
Günay G, Johnson IA (eds) (1997) Karst water environmental impact. A.A. Balkema
Karst in Carbonate Rocks (1972) Publishing house of the Moscow University. In Russian, Moskwa
Karstology – XXI Century (2004) In: Proceedings of the international symposium. Perm State University, Perm
Krešić N, Stevanović, Z (eds) (2010) Groundwater hydrogeology of springs, engineering, theory, management, and sustainability. Elsevier, Burlington
LaMoreaux PL (1984) Catastrophic subsidence, Shelby County, Alabama. In Back BF (ed) Sinkholes; Their geology, engineering and environmental impact; the first multidisciplinary conference on Sinkholes, Orlando, 15–17 October. A. A. Balkema, Netherlands pp 131–136
Lu Y (2009) Karst in China, a World of improbable peaks and wonderful caves. Ministry of Land and Resources, Peking
Milanović P (1981) Karst hydrogeology. Water Resources Publications, Littleton
Milanović S, Vasić LJ (2015) Monitoring of Karst groundwater. In: Stevanović Z (ed) Karst aquifers – characterisation and engineering. Springer International Publishing Switzerland
Newton JG(1976) Early detection and correction of sinkhole problems in Alabama, with a preliminary evaluation of remote sensing application. Alabama highway research, HPR no. 76, research project 930-070
Stevanović Z (ed) (2015) Karst aquifers – characterisation and engineering. Springer
Stevanović Z, Milanović P (2005) Water resources & environmental problems in Karst. In: Proceedings of the international conference and field seminars. Faculty of Mining and Geology, Belgrade/Kotor
Van Beynen PE (ed) (2011) Karst management. Springer, Dordrecht
Titel

Remediation in Karst

DOI

https://doi.org/10.1007/978-1-4939-8787-0_975

Autor:

Petar T. Milanović


Verlag

Springer US

Sequenznummer

15