04.09.2018 | Original Paper | Ausgabe 11/2018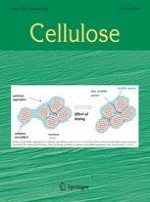 Remediation of Cd(II) and reactive red 195 dye in wastewater by nanosized gels of grafted carboxymethyl cellulose
Zeitschrift:
Autoren:

Emad K. Radwan, Hany Kafafy, Shaimaa T. El-Wakeel, Tharwat I. Shaheen, Tarek A. Gad-Allah, Amer S. El-Kalliny, Mehrez E. El-Naggar
Wichtige Hinweise
Electronic supplementary material
The authors Emad K. Radwan and Hany Kafafy are equally contributed to this work.
Abstract
In this work, a fixed amount of acrylamide and different amounts of acrylic acid were grafted on carboxymethyl cellulose (CMC) to get a nanosized gel with enhanced adsorption capacity. Successful grafting was demonstrated by FTIR and XRD analysis. By increasing the concentration of the grafting reactants, the average particle size of the prepared gels was reduced according to TEM and particle size analysis. The adsorption studies declared that 0.5 g/L of the prepared gel can almost completely remove Cd(II) (20 mg/L, pH 6) within 5 min; whilst, gel of 2 g/L can remove up to 90% of RR195 dye solution (10 mg/L, pH 2) in 5 min. As a result, the adsorption process followed the pseudo-first and second-order kinetic for RR195 dye and Cd(II), respectively. For both adsorptives, the isotherm data was best described by Langmuir model which revealed that the prepared gel has a significantly high adsorption capacity (595.92 mg/g) for Cd(II) from wastewater.
Graphical abstract
×