2017 | Supplement | Buchkapitel
7. Remedies: The Procedural Measures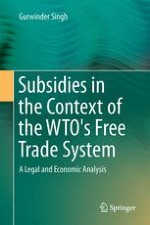 Erstes Kapitel lesen
Autor: Gurwinder Singh
Abstract
The working of the WTO is based on specific set of objectives. The main objectives of the WTO are to promote trade liberalization and to create fair opportunities for development among its Member States. Following the liberal market policies based on the WTO system, the trading opportunities for the Member States has indeed grown, but they are obliged to follow specific set of rules as check and balances, restricting discriminatory, market distortionary and other inefficient trade practices.
This Chapter deals with the procedural measures to be applied for dispute resolution in case of disagreement between the parties. Member States are expected to follow the WTO rules and comply with the provisions of the SCM Agreement. Trade subsidies can be compared to the two sides of the same coin. For practical reasons, there can be relevant justifications for the state support in the form of subsidies, for example, during the initial phase of industrialization or when the society is transforming from agricultural to industrial mode.
After attaining membership, Member States are expected to formulate domestic policies consistent with the WTO Agreements. However, in cases where party is affected by the subsidy practices or due to the non-compliance, it has to recourse to the DSB. This chapter deals specifically with the procedure for the solutions if a party suffers from the subsidy practices by other Member States. Therefore, the discussion in this chapter is basically confined to the remedies because of the subsidies creating distortionary effect to the other parties.