19.02.2018 | Original Paper | Ausgabe 4/2018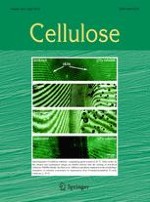 Removal of heavy metal and sulfate ions by cellulose derivative-based biosorbents
Zeitschrift:
Autoren:

Xin Gao, Heng Zhang, Keli Chen, Jiali Zhou, Qixing Liu
Wichtige Hinweise
Electronic supplementary material
Abstract
A series of environmentally-friendly bagasse pith cellulose-based adsorbents were prepared in an attempt to retain Cu2+ and SO42− from aqueous solutions. The proof of ion adsorption on the biosorbents was identified from Fourier transform infrared spectroscopy and energy-dispersive X-ray spectroscopy-scanning electron microscope. The adsorption capacities were highly dependent on pH and the maximum uptakes of both ions were obtained at pH 5. An increase of solution temperature resulted in decreasing Cu2+ removal but enhancing SO42− adsorption. The kinetic studies showed that the adsorptions of copper and sulfate ions followed the pseudo-second-order kinetics. The analysis of isotherm data indicated that the Langmuir and Freundlich models were in good agreement with the sorptions of Cu2+ and SO42−, respectively. The proportion of carboxylate cellulose and quaternary ammonium-functionalized cellulose in biosorbents influenced on adsorption capacity of the above ions. The adsorption mechanism was mainly governed by ion exchange, complexation and electrostatic association.