19.05.2017 | ORIGINAL ARTICLE | Ausgabe 1/2018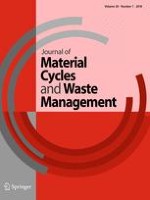 Removal of phthalic acid diesters through a municipal solid waste landfill leachate treatment process
Zeitschrift:
Autoren:

Chengran Fang, Yixuan Chu, Lanhui Jiang, Hua Wang, Yuyang Long, Dongsheng Shen
Abstract
We studied the removal of two phthalic acid diesters (PAEs), di-
n
-butyl phthalate (DBP) and di(2-ethylhexyl) phthalate (DEHP), from leachates of a municipal solid waste landfill treatment facility. The leachates originated from the adjusting unit, the anaerobic unit, the aerobic unit, the ultrafiltration membrane unit, and the reverse osmosis membrane unit. The initial concentrations of DBP and DEHP were 225.8 and 260.9 µg/L, respectively, which were reduced to 5.8 and 3.2 µg/L in the effluent, representing 97.4% removal of DBP and 98.8% removal of DEHP. DBP was removed stepwise during the process, mainly via degradation by microorganisms. Approximately, 70.1% of the DEHP was removed by the membrane processes, owing to physical retention of the compound by the membranes. The dissolved organic carbon occurred mostly in the 1–100 kDa molecular weight fraction. The positive correlation between dissolved organic carbon and DBP/DEHP concentrations in raw leachate and in effluents from each treatment unit showed that the interaction between dissolved organic matter and PAEs facilitated the removal of organic pollutants. Large amounts of PAEs can accumulate over long periods of time in the concentrated leachate product, which may make further leachate treatment more difficult and may lead to adverse impacts on the environment.