01.04.2014 | Ausgabe 2/2014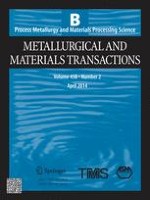 Removal of Vanadium from Molten Aluminum-Part I. Analysis of VB2 Formation
Zeitschrift:
Autoren:

Abdul Khaliq, Muhammad Akbar Rhamdhani, Geoffrey A. Brooks, John F. Grandfield
Wichtige Hinweise
Manuscript submitted June 17, 2013.
Abstract
Aluminum has been used as an alternative to copper for electrical conductor applications. However, the presence of certain impurities in aluminum, such as V, Ti, Zr, Cr, and Fe, has detrimental effect on its electrical conductivity. These impurities can be removed by the addition of an Al-B master alloy containing AlB2 or AlB12 phase, known as boron treatment. The detailed mechanism of borides formation, however, is not well understood. In the current study, a systematic investigation of vanadium diborides (VB2) formation in the Al-V-B alloys was carried out. The study comprised thermodynamic assessment and experimental investigation on the Al-V-B system under typical industrial processing conditions. It was predicted from thermodynamic analysis that VB2 are stable borides of V and do not dissolve readily in the temperatures ranging from 948 K to 1173 K (675 °C to 900 °C). The experimental investigation showed that the mechanism of VB2 formation and V removal in an Al-V-B system is complex as it involves a number of steps such as chemical reaction, mass transfers in bulk liquid and inside the VB2 ring, and diffusions of B and V through the VB2 layer. Comparative analysis of thermodynamic and experimental results showed that the aluminum alloys were far from equilibrium and that the overall process was limited by the kinetics of B diffusion through the VB2 ring.