01.04.2014 | Ausgabe 2/2014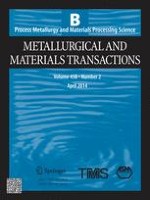 Removal of Vanadium from Molten Aluminum—Part II. Kinetic Analysis and Mechanism of VB2 Formation
Zeitschrift:
Autoren:

Abdul Khaliq, Muhammad Akbar Rhamdhani, Geoffrey A. Brooks, John F. Grandfield
Wichtige Hinweise
Manuscript submitted June 17, 2013.
Abstract
Transition metal impurities such as vanadium (V), titanium (Ti), zirconium (Zr), and chromium (Cr) reduce the electrical conductivity of smelter grade aluminum. These impurities are removed by the addition of boron-bearing substances (AlB12/AlB2) and the process is called boron treatment. The quality of the alloy and the economy of boron treatment can be improved by understanding the kinetics and mechanism of VB2 formation in molten aluminum. Currently, there is limited published information on the heterogeneous kinetics of the boron treatment. In this study, an investigation of the kinetics of V removal from molten Al-1 wt pct V alloys during boron treatment at 1023 K (750 °C) was carried out. The effects of stirring (natural, mechanical, and gas), reaction temperature, and the levels of boron addition were analyzed. The kinetics of the process could be described in two stages. The rate was faster in the early stage of reaction and was halted after 10 minutes. It was concluded that the early stage of reaction was controlled by the mass transfer of V in molten aluminum. In the second stage of reaction, it was concluded that the kinetics was controlled by the diffusion of B through a VB2 layer formed in the early stage of reaction. It was observed from microscopy analysis that the ring of VB2 disintegrated during gas stirring of bulk melt and consequently the kinetics of reaction was enhanced.