2010 | OriginalPaper | Buchkapitel
21. Removal of Xenobiotic Compounds from Water and Wastewater by Advanced Oxidation Processes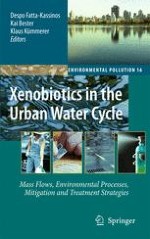 Erstes Kapitel lesen
Autoren: Despo Fatta-Kassinos, Evroula Hapeshi, Sixto Malato, Dionisis Mantzavinos, Luigi Rizzo, Nikos P. Xekoukoulotakis
Verlag: Springer Netherlands
Abstract
Advanced oxidation processes (AOPs) constitute a family of redox technologies that have been involved in various environmental applications, including, amongst others, the treatment of municipal and industrial wastewater contaminated by various organic and inorganic compounds.
This chapter focuses on the science and engineering of water and wastewater treatment in relation to AOPs applications. The chapter gives a short but necessary description of the key AOPs employed in water treatment and then discusses process fundamentals, advantages and drawbacks. This is done providing recent paradigms from the literature on process integration aiming to improve degradation rates or separate pollutants, catalysts and chemicals prior to or after advanced oxidation.
The chapter includes also information on solar-driven applications (homogeneous and heterogeneous photocatalysis) as an excellent example of sustainable treatment technologies. This part discusses technological advances (development of non-concentrating collectors and scaling-up of photocatalytic reactors) and summarizes most of the recent research related to the degradation of water contaminants. The approach is exemplified through a combined solar photocatalysis and bio-treatment unit capable of destroying very persistent toxic compounds.
Finally, in this chapter, the use of AOPs in drinking water treatment is discussed with respect to both disinfection by-products control and micro-pollutants removal and compared to the efficiency of conventional treatment technologies.