01.08.2014 | Ausgabe 1/2014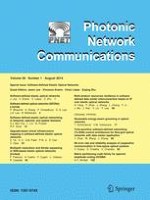 Renewable energy-aware grooming in optical networks
Zeitschrift:
Autoren:

Thilo Schöndienst, Vinod M. Vokkarane
Abstract
The optical layer of a network is
the
energy-efficient technology to provision high bandwidths for data transport. Unfortunately, occasional electronic processing is unavoidable in current networks. This process is much more energy-consuming than the optical transport. Recent research has already yielded great improvements in terms of energy efficiency. It is, however, observed that increased energy efficiency typically leads to higher
overall
energy consumption. Therefore, it is imperative to reduce the environmental impact by additional means: maximizing the use of renewable energy. We present an approach to greenhouse gas (GHG) emission-reducing grooming by considering the heterogeneous distribution of fossil and renewable energy sources. We analyze various two-step solutions for the route calculation and lightpath provisioning problem in IP-over-WDM mesh networks. We show that it is possible to reduce GHG emissions at a stable level of energy consumption and improved blocking performance compared to previous energy-efficient solutions.