2018 | OriginalPaper | Buchkapitel
1. Renewable Energy Sources: A Sustainable Strategy for Biodiesel Productions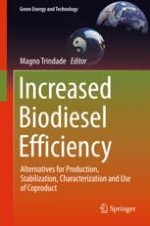 Autoren: Kássia R. N. da Silva, Marcela Z. Corazza, Jorge L. Raposo Jr.
Abstract
Nowadays, the world energetic scenario is moving toward a search for renewable energy matrices, allowing energy sources to be enlarged to produce diesel and/or biodiesel. Biodiesel is a renewable and clean-burning biofuel that is gradually being incorporated into conventional diesel as a means of limiting the production of fossil fuels to motivate the productivity of "ecologic friendly" biofuel. However, some oilseed species used as raw materials, even those with lower operational cost for the production of the vegetable oil, are still a great challenge for the petrochemical industry, given the economic competitiveness of biodiesel against the diesel obtained from fossil fuels. The use of alternative oilseed species to produce biodiesel may increase costs, which may exceed the price of the barrel of diesel, leading to non-viable biodiesel production. On the other hand, the high taxes on petroleum products can reduce the difference between them, allowing biodiesel production to become economically viable. This situation makes the exploration of economical alternative non-food feedstocks (e.g.,
Jatropha curcas
) an important research topic. Biodiesel is made from diverse feedstocks including soybean, rapeseed/canola, sunflower, safflower, palm,
Jatropha curcas
,
Raphanus sativus
, cottonseed, corn, peanut, coconut, recycled cooking oil, animal fats, and also algae. In the context of renewable sources for biodiesel energy, the great biodiversity of alternative oilseeds and others oily biomass makes Brazil, the USA, Canada, and some countries in Europe and Asia greater potential markets to produce biofuels from these alternative sources. The incentives for using renewable species for biodiesel production rather than conventional petroleum diesel fuel are the absence of sulfur or aromatic compounds, high content of oil, low cost of crop maintenance, improvement of the environment, creation of new jobs, and a significant contribution to the domestic economy.