13.11.2017 | Ausgabe 1/2018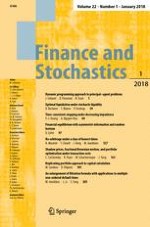 Replicating portfolio approach to capital calculation
Zeitschrift:
Autoren:

Mathieu Cambou, Damir Filipović
Wichtige Hinweise
We thank Matthias Aellig, Valérie Chavez, Michel Dacorogna, Anthony Davison, Lucio Fernandez-Arjona, Guido Grützner, Victor Iglesias, Stephan Morgenthaler, Antoon Pelsser, Johan Segers, Sonja Sterki, Ralf Werner, and participants at the Oberwolfach Workshop on the Mathematics and Statistics of Quantitative Risk Management 2015, the Versicherungsmathematisches Kolloquium at LMU Munich, the 9th World Congress of the Bachelier Finance Society, Mathematisches Kolloquium at University of Freiburg, the Institute of Actuaries of Belgium (IA|BE) Chair 2016, Swissquant Workshop, the Conference on Innovations in Insurance, Risk and Asset Management at Technical University of Munich, the Zurich–Hannover Workshop on Insurance and Financial Mathematics, the 52nd Actuarial Research Conference at Georgia State University, and two anonymous referees for comments. An early version of this paper was implemented in the Master's thesis of Haobo Jia, "New Aspects of the Replicating Portfolio for Group Life Insurance", in the Financial Engineering program at EPFL and carried out at Swiss Life in 2013. The research leading to these results has received funding from the European Research Council under the European Union's Seventh Framework Programme (FP/2007-2013)/ERC Grant Agreement n. 307465-POLYTE.
Abstract
The replicating portfolio (RP) approach to the calculation of capital for life insurance portfolios is an industry standard. The RP is obtained from projecting the terminal loss of discounted asset–liability cash flows on a set of factors generated by a family of financial instruments that can be efficiently simulated. We provide the mathematical foundations and a novel dynamic and path-dependent RP approach for real-world and risk-neutral sampling. We show that our RP approach yields asymptotically consistent capital estimators if the chaotic representation property holds. We illustrate the tractability of the RP approach by three numerical examples.