16.10.2017 | Ausgabe 1/2018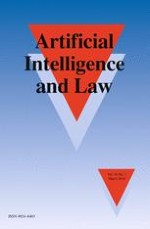 Representing dimensions within the reason model of precedent
Zeitschrift:
Autor:

Adam Rigoni
Abstract
This paper gives an account of dimensions in the reason model found in Horty (Legal Theory 17(1): 1–33,
2011
), Horty and Bench-Capon (in: Proceedings of the 15th international conference on artificial intelligence and law, pp 109–118, ACM Press,
2012
) and Rigoni (Artif Intell Law 23(2):133–160,
2015
. doi:
10.​1007/​s10506-015-9166-x
). The account is constructed with the purpose of rectifying problems with the approach to incorporating dimensions in Horty (
2017
), namely, the problems arising from the collapse of the distinction between the reason model and the result model on that approach. Examination of the newly constructed theory revealed that the importance of dimensions in the reason model lies in their ability to establish weighings between reasons/factors of the same polarity. This permits past cases to constrain future cases in ways they could not on the reason model with just factors. The paper then discusses how dimensions might be established from a case base and how dimensions that are incomplete in various aspects might be dealt with in the theory. It closes with comparisons to other work in the literature on AI and Law and suggestions for further improvement of the reason model.