07.05.2018 | Polymers | Ausgabe 15/2018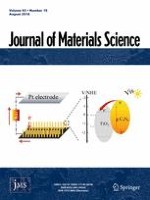 Reprocessable 5-hydroxymethylfurfural derivative-based thermoset elastomers synthesized through the thiol-Michael and Diels–Alder reactions
Zeitschrift:
Autoren:

Daihui Zhang, Marie-Josée Dumont
Wichtige Hinweise
Electronic supplementary material
Abstract
The combination of the thiol-Michael addition reaction and the Diels–Alder reaction (DA) was exploited to synthesize thermoset elastomers from 5-hydroxymethylfurfural derivative. The first step involved the synthesis of linear poly(β-thioether ester) via the thiol-Michael addition polymerization of 2,5-furan diacrylate (2,5-FDA) and 1,3-propanedithiol. Then the DA reaction between the furan rings and the maleimide groups allowed the linear polymers to be dynamically crosslinked to reprocessable thermoset elastomers. When the weight ratio of polymers to crosslinker was 5:1, the Young's modulus, ultimate strength, and elongation at break were 4.3 ± 0.6, 5.7 ± 1.1 MPa, and 205.3 ± 20.1%, respectively. Moreover, a high elastic recovery (98.9%) and low residual strain (0.7%) were observed after the third cycle during the cyclic tensile test. Additionally, the structures, properties, and functionality of elastomers were varied via the synthesis of linear copoly(β-thioether ester) using DL-dithiothreitol or poly(ethylene glycol) diacrylate as comonomers. Furthermore, the mechanical properties of the thermoset elastomers were adjusted by the incorporation of 1,6-henxanedithiol or 1,4-butanediol diacrylate as comonomers. The reprocessability of elastomers was demonstrated by heating the crosslinked film in dimethylformamide solution to a new film. The advantages of these 2,5-FDA-based thermoset elastomers include the easy synthesis process and mild reaction conditions, the good elasticity, and their reprocessability.